amusement shooting water monkey King rides for sale
Datetime:2020-04-07 13:30:33
Author:admin
Hits:2806
China direct factory Equipment Monkey King Playing Water Shooting Ride for Sale
1. GRP 6 Cupssupport 12 person for Parent-Child
2. Interactive shooting water games
3 Subjects and colors can be customized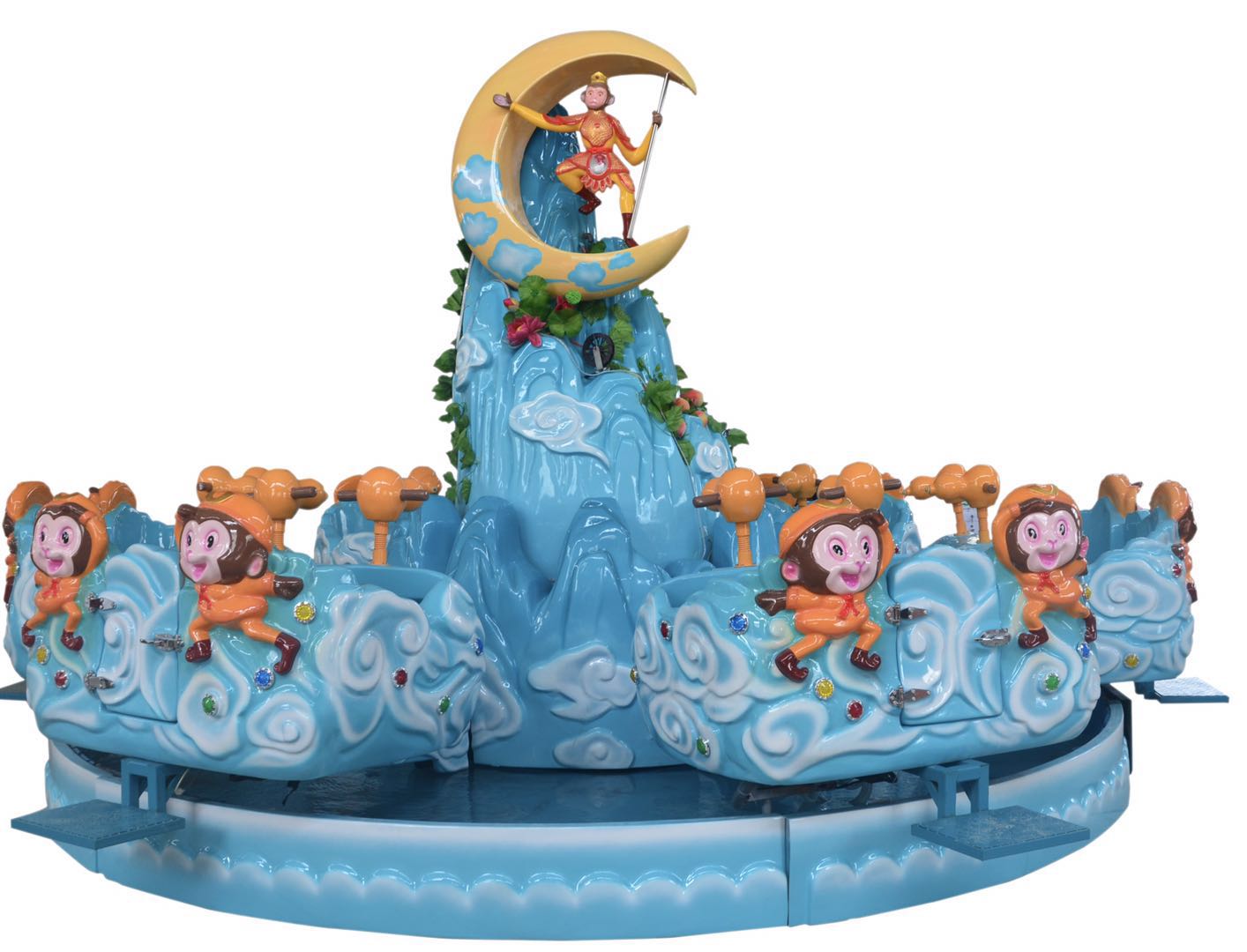 4. Subjects and colors can be customized

5. Rockery with fog interesting and vividly
Kids Attractions Park Water Rides Shooting Guns Amusement Rides Monkey King Playing Water For Sale

Monkey king playing water is the new class of rotating playground equipment, a kind of family rides,play with water gun,the water rides can take 12 people. It has a very popular design, Chines theme Monkey king in the middle ,some funny cartoon animals around the King,so Prodigy Water shooting game rides is cool and attractive. The passenger is seated in the cartoon cabins, they can use the water gun to shoot the target. When the target is shot, the animals will produce a variety of funny action, such as spraying water, shaking body.
Prodigy Amusement is a professional amusement equipment manufacturer located in HeNan Province, China. We are a happy team, and hope to share happiness with people all around the world! look ,the monkey king is stand in the middle,.many little monkey surround with the monkey king .people sit in the cabins,shooting water to the monkey king.at the same time, people in the cabin can shooting each others to have fun.
Zhengzhou Prodigy Amusement Equipment Co., Ltd. A specialist on playground overall planning , focus on amusement equipment manufacturing Since 1999,located in Zhengzhou city , Henan Province ,China.Covers an area of 55,000 square meters with manufacturing building and more than 300 employees. Zhengzhou Prodigy Amusement Equipment Co., Ltd. is a professional group with integration of theme park planning, designing, and brand franchise (Prodigy Kingdom). Mainly business scope: indoor and outdoor playground overall planning and equipment manufacturer, amusement park rides, carnival rides, outward bound, carousel, family rides, train rides, kiddie rides, bumper car, lottery machines, racing and shooting simulator, laser shooting games, gift machine and etc. All of them are popular in domestic and overseas markets.
Contact Us
Zhengzhou Prodigy Amusement Equipment Co.,Ltd

Mobile:+86 18595727588 (Whatsapp/wechat)
E-mail:info@prodigy-rides.com
web:https://www.newamusementrides.com
Address:Prodigy Group Industrial Zone, Zhengzhou City, Henan Province, China.