Royal Crown Carousel Ride for Evergrande Real Estate
Datetime:2020-04-26 14:37:33
Author:admin
Hits:3156
In 2020, Evergrande Real Estate order several rides from Zhengzhou Prodidy Amusement Equipment Co.,LTD., including this Royal Crown Carousel Ride for their property promotion, while they purchase our octopus ride, control plane, flying UFO ride etc.other popular amusement equipment. We send our engineers to install them,and you will see all the rides in the coming May Day.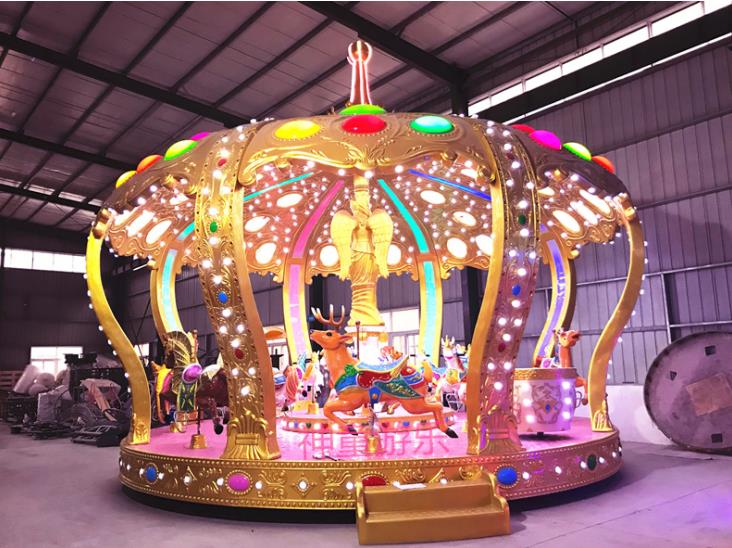 Royal Crown Carousel Ride is the start product with patent:201530478700.7. It is very different from the traditional carousel, especially the inside of it, you can will see various of animal not only horse, like line, elephant , deer , dragon. And about the centre axis, we design it as one lovely angel. The unique design is very attractive to the visitor in public place. That is the reason Evergrande Real Estate buy our rides when they plan to push their new properties in different cities.

You will see dazzling and gorgeous light when it runs in night. All kids like the carousel very much,most children ride such carousel, we believe. It is one common and popular amusement playing game and widely used in the amusement park, shopping mall, theme park or some promotion area.
Let's go out and play together during the holidays!
Contact Us
Zhengzhou Prodigy Amusement Equipment Co.,Ltd

Mobile:+86 18595727588 (Whatsapp/wechat)
E-mail:info@prodigy-rides.com
web:https://www.newamusementrides.com
Address:Prodigy Group Industrial Zone, Zhengzhou City, Henan Province, China.